Guide: Waterfront Properties, Penang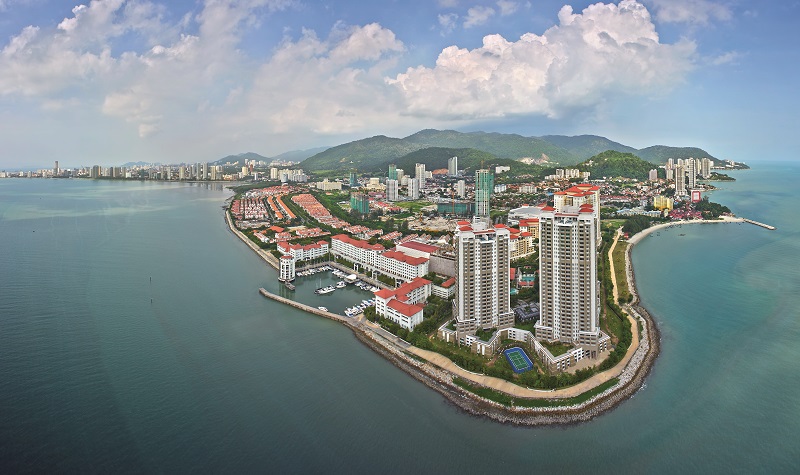 With waterfront living gaining momentum, Penang looks to be the destination to go to.
From Hong Kong and Singapore to Malaysia's Johor and Penang, waterfront living is fast gaining momentum as the preferred lifestyle for the well heeled. What distinguish Penang from other destinations, however, is its UNESCO World Heritage City status, colorful colonial history and reputation as the region's foodie capital. CNN recently listed Penang's Georgetown among the top 10 in their annual roundup of best cities to visit in 2016. Sometime back, Yahoo! Travel called it, "the top 10 islands to explore before you die."
With just over 1.5 million people – mostly Malays, Chinese, Indians, Thais, Burmese, Eurasians and a growing number of expatriates – the pace in Penang is far more leisurely compared with Hong Kong or Singapore. Driving around the island, it is easy to figure out why folks call this the "Pearl of the Orient".
In recent years, waterfront developments and high-rise condominiums have sprouted across Penang, especially along its coast, complementing the centuries-old colonial architecture unique to the island.
"Foreign investors and well-heeled locals seem to love waterfront developments," says Sean Thow, a local resident and investor.
"I know of a foreign investor who sold his sea-facing condominium for RM3.5 million ($910,000) recently, pocketing a RM700,000 ($182,000) profit despite the weaker ringgit," Thow adds.
Generations of locals on the island have reaped profits from flipping properties on the island and many are cash-rich. It is not unusual to see reasonably priced units in good locations being snapped up quickly. Some locals own not just one or two units but a whole stretch of shophouses.
While there is a slowdown in take-up for some property types, like landed, prices are generally holding steady.
"Tourism may have slowed recently due to the negative publicity about Malaysia reported by foreign media and business at the upmarket cafes and restaurants may be affected. This could dampen demand for pre-war shophouses. But general market sentiment is still positive," Thow explains.
While landed property prices in popular hotspots around the island will continue to rise due to scarcity of land, the property landscape is seeing a change after the Second Penang Bridge was launched in March 2014.
The new bridge connects Seberang Perai on the mainland and Batu Kawan (an island just off the coast of Seberang Perai) with Batu Maung on the south east coast of Penang. Developers have taken a renewed interest in property development around the landing sites of the bridge, especially in the Batu Kawan area.
"To date, a major portion of Batu Kawan is still undeveloped, comprising mainly vacant lands cleared from oil palm plantations or kampung land," according to the 2015 property report by C H Williams Talhar & Wong.
The state government has chosen Batu Kawan as the third satellite town – after Bayan Baru and Seberang Jaya – with plans to build residential, commercial, industrial and infrastructure developments. Ecoworld Group, a well-known developer, has already proposed a golf course with mixed residential development and a waterfront city overlooking Penang island. Other interesting projects coming up on Batu Kawan include a theme park, Ikano shopping mall (with anchor store Ikea), Penang Premium Outlet with an international-class hotel, technology park, college and university campuses, among others.
"For foreigners interested to invest in Penang, especially high-end residential units, now is an opportune time as the depreciating Malaysian ringgit has made the selling prices even more attractive, says Peh Seng Yee, Director at C H Williams Talhar & Wong Sdn Bhd. "The prevailing buyers' market would also provide prospective buyers with more choices. Penang is one of the few places around the region that offers a combination of 'sea', 'hills' and 'city' – where residents can live on a hill overlooking the sea with city amenities close at hand."
The Malaysian ringgit is now at a 17-year low against the US dollar and this is possibly a pull factor for foreign investors interested in high-end quality developments at a bargain.
Astute investors will say that there are opportunities even in a slow market. Just recently, a sea-facing 9,326 sq ft penthouse at Tanjung Bungah (northern part of Penang) was put on the market at RM7.9 million ($2.05 million), way below its RM8.5 million ($2.2 million) valuation price.
Peh says buying for investment should be on a long-term basis. "Anytime would be a good time to buy for the purpose of owner occupation as long as it suits the purchaser's lifestyle. The current 'slow' market actually weeds out speculators looking for short-term gains. Buying for capital appreciation on the island should be over a longer-term period as rental returns are even lower compared to similar properties in Kuala Lumpur".
WATERFRONT PROPERTIES ON THE ISLAND 
At Seri Tanjung Pinang located at the northeastern tip of the island, a waterfront masterplan development is taking shape. 18 East at Andaman, the final tower under the Andaman series, is hailed as the only condominium project in Malaysia with a vast 4.5-acre private waterpark. Priced from RM1,000 ($260) per sq ft upwards, it offers low-density living with only 210 units ranging in size from 877 to 2,824 sq ft. The project also boasts of a 6.9-acre lush green recreational space with world-class facilities, a clubhouse and stunning views of the ocean. Hailed as a lifestyle developer, E&O is renowned for creating luxury developments that would surprise even well heeled and well-travelled investors. For 18 East, the developer engaged award-winning concept and landscape architects to create a project that would rival even five-star resorts in exotic destinations like Mauritius or Bora Bora. Estimated completion date is 2016.
Over at the south-eastern coast, Tropicana Bay Residences has sold about 80 per cent of their 1,343 units with prices starting from RM850 ($220) per sq ft. Comprising six towers of freehold condominium units located at Bayan Indah, it is almost midway between the two Penang bridges which links to the mainland. The well-known Queensbay Mall shopping center is just a stone's throw away while the airport is just 10 km away. Tropicana Bay is just the first phase of a waterfront masterplan development called Penang WorldCity, a collaborative effort by two developers, Ivory Properties Group Berhad and Tropicana Corporation Berhad (formerly Dijaya Corporation Berhad), coming together to form Tropicana Ivory. The project is scheduled for completion in 2017.
At the northern end of the island is Angsana Teluk Bahang, fronted by one kilometer of pristine white sandy beach and flanked by forest reserves. The flagship project by Senja Aman Development Sdn Bhd is comprised of 102 hotel rooms and 170 serviced two-bedroom suites housed within three tower blocks. The Banyan Tree Group under their Angsana brand will manage the leasehold commercial property as an integrated wellness resort. Out of the 272 units, 150 two-bedroom suites are available for sale with individual strata titles. The fully-furnished suites of 950 sq ft to 1,200 sq ft are priced from RM1,950 ($507) per sq ft. The resort is set to open in early 2017.
On the island's eastern front, just a short distance from the Penang bridge exit, a large-scale integrated waterfront mixed-use development comprising a shopping mall, residential towers, an office tower, two hotels and a convention centre, is being built. Dubbed The Light Waterfront Penang, some of the earlier phases of the residential component have been completed with subsale prices ranging from RM840,000 ($218,000) to RM1.9 million ($380,000). The Light Collection is now into phases three and four and the developer is IJM Land.
Setia V Residences in the Gurney Drive area offers upscale seafacing condominium units right in the city. The project comprises two massive towers (43 and 48 storeys) with 166 units. During its launch, unit prices for tower A was around RM2 million ($520,000) while for tower B, it was around RM3 million ($780,000). The project developed by SP Setia was clearly targeted at the well heeled and completion date is estimated to be in 2016.
The Marin at Ferringhi is built on elevated land overlooking the sea at the northern tip of the island — along the famous Batu Ferringhi stretch where most of the five-star resorts are located. Developed by Plenitude Group, the freehold condominium project comprises two towers with 149 units, some of them with seaviews and some with forest views. The unit prices range between RM1.8 and RM4 million ($468,000 and $1.04 million) with expected completion is 2018.
Island Resort is a hillside residential development by Ivory Properties, located at Batu Ferringhi. Units on offer range from villas, bungalows and highrise condominium units (named 10 Island Resort). There are 266 units within the condomiunium block with prices starting from around RM700,000.
The aptly named Hilltop Villas development is comprised of three- and four-storey bungalows located on a hill overlooking the sea at Batu Ferringhi. The villas developed by Penang-based Asia Green Group were completed in 2010 and subsale units may be availabe from RM4.5 to RM9 million ($182,000 to 2.34 million).
Another development at Batu Ferringhi is Ferringhi Residence, a residential masterplan development split into Precincts 1, 2 and 3 by Mah Sing Group. Within the development, there is a wide range of offerings from condo villas to highrise units with launch price starting from RM600 ($156) per sq ft for Precinct 1.
Story Credits
Text by Pete Wong
This article was originally published in Yacht Style Issue 34