Blockchain Getaway: A Crypto Rendezvous in Penang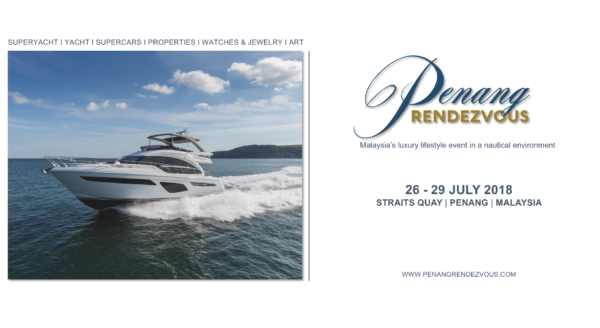 Aditus to host crypto seminar during the inaugural premium lifestyle event Penang Rendezvous 2018.
Rich in heritage and culture, there's arguably only one state in Malaysia that's on everyone's list when it comes to hospitality and cuisine: Penang. Here, you can indulge your senses with culinary delights as well as gain easy access to beaches with waves almost lapping at your doorstep.
As such, Straits Quay Marina located at Seri Tanjung Pinang is thus the perfect location for the inaugural Penang Rendezvous. The marine and luxury showcase is part of the Rendezvous series of events and the inaugural Penang Rendezvous will look to replicate the success of previous iterations that were held in previously in Phuket and Singapore.
Amidst the seafaring glitz, glamour and lavish parties official partner Aditus will play host during a cryptocurrency seminar that will be held on July 28 at the nearby Performing Arts Centre of Penang (Penangpac).
This is hardly a glamorous coincidence as evident by 'How Bitcoin Went Luxury' in Vogue that summarised how newly minted crypto-affluents are looking for ways to spend their digital money on upmarket goods – from upscale real estate to expensive artworks and superyachts.  
Aptly named 'Crypto Rendezvous', this seminar will look to connect influential blockchain insiders, pioneers and investors with traditional HNWIs and luxury purveyors and merchants. With the laidback vibe of Penang Rendezvous as a backdrop, it's also a time for everyone to let down their hair and have a good time with more than 8,000 visitors expected at this exclusive four-day event.
The seminar is expected to be attended by a crowd of 100 and confirmed speakers include Mastura Ishak, Programme Director for Blockchain with the Malaysian Industry-Government Group for High Technology (MIGHT) and Julian Peh, co-founder and CEO of Aditus, a luxury access platform bridging luxury merchants and crypto-affluents on a decentralised network.
Crypto Rendezvous in Penang is thus a perfect avenue for discussion and sharing of ideas even as it is often asserted that the state is often the epicentre of multilevel Ponzi schemes and money games.
During the conference, it will be elaborated that cryptocurrencies and blockchain technology while susceptible to scams are more than just that.
There's also a panel discussion headlined by Colbert Lau. He is the first Bitcoin professional in Malaysia as certified by the Cryptocurrency Certification Consortium (C4) and a born and bred Penangite. Other active participants include representatives from peer-to-peer blockchain platform NEM and the local Stemmit community. Popular radio personality and producer Freda Liu of independent business station BFM 89.9 will be moderating the afternoon's proceedings.
The fact is, of course, pressing concerns of blockchain adoption and innovation will be discussed. This comes at a vital time as Malaysia's new Anti-Money Laundering and Counter Financing of Terrorism (AML/CFT) policy guidelines specifically addressing cryptocurrencies came into effect in March. The new regulations compel Malaysian virtual currency exchanges to mandate KYC adherence. These regulations could promote mainstream adoption and foster confidence of cryptocurrencies and blockchain technology in the country.
For more information, please visit:
www.aditus.net
To RSVP, email:
info@aditus.net